One of the most heavily contested segments of the car market has got to be the supermini market. What was once a relatively small choice of cheap models from mainstream manufacturers, it has now exploded into a selection where customers can choose to buy anything from an Audi to a Perodua (and spend from £5k to 10x that!)…all pretty overwhelming for a buyer who doesn't really know what they want from a car. That's probably the reason why there are a couple of models which totally dominate the market in the UK and a handful of others which tend to vie for buyers attention when they can.
Thankfully though this massive choice and fierce competition means that buyers can't really go much wrong when choosing what to buy – stick to one of the more mainstream models and it's sure to give you years of low running costs, decent reliability and enough space for a weekend away or an occasional trip to the tip. I'm aware that some of these cars I have mentioned before in various different posts but hopefully this brief guide might give any new buyers in this segment a leg up.
Audi A1:
Unarguably a big success for the German car maker and a car which has helped contribute to it being the biggest selling luxury brand in the UK this year. Smart looking (especially in 3 door spec) and offering an interior on par with cars from the class above – and then some, the A1 has become the car of choice for those looking for a premium supermini without the emotional image of the MINI. Overall it's actually a damn good car (with outstanding residuals) but is let down by hefty pricing…to get a car that most people would want to drive it's getting towards £20k, which not that long ago could buy you a BMW 3 Series!
Citroen C3:
The first of two Citroen superminis in this line-up, the C3 is a pretty conventional entry into the market from a company renowned for quirky models…oh dear! Still it's inoffensive enough and has pretty distinctive styling, maybe more tailored for the female market but there you go. Those looking for more space can upgrade to the C3 Picasso, a squarer looking mini-MPV which shares the C3's nice interior layout but in a more family/pensioner friendly package.
Citroen DS3:
Those looking for something a little racier than the normal C3/C3 Picasso might be interested in the DS3, the successful 'first rung' on Citroen's DS model ladder. Distinctive and somewhat sporty, the DS3 has found plenty of fans in the UK, many of whom have peronalised their cars with Citroen's wacky options list. Overall the DS3 is a very decent car if you don't need the practicality of 5 doors (and can be had with a full-length sunroof too!), but it's prices seem dangerously close to the likes of the A1 that it wants to compete with.
Ford Fiesta:
The Fiesta is that annoying high-school jock who is good at everything and friends with everyone; good looking, cheap to buy/run, tidy handling, decent interior layout and options and easy availability have ensured that it has been a permanent fixture at the top of UK sales charts since it's release back in 2008. There genuinely isn't much wrong with the Fiesta besides it's ubiquitous-ness in car parks (might be hard to find it!) and the fact that resale versions are quite poor. Most people would be very happy with a Fiesta but for those who need a little more space there is the B-Max…essentially a taller version with sliding rear doors and no B pillar! But as is the case with all superminis, by the time some nice options are added they start to encroach on territory formerly the domain of larger cars.
Dacia Sandero: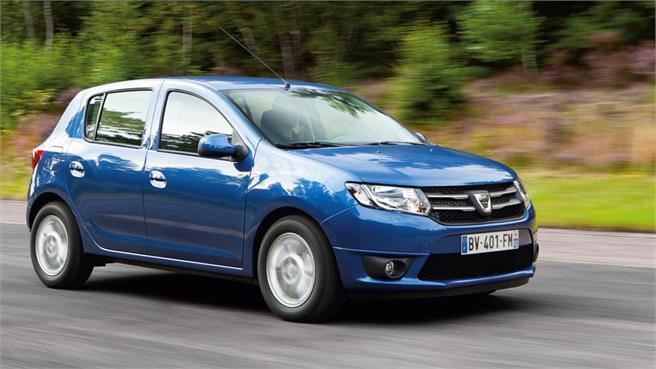 Taking things back to basics is what Dacia have done with the Sandero; based on a previous gen Renault platform with a very plasticky interior, somehow they have managed to get it to retail for just under £5k for the basic versions! That price even includes a warranty although admittedly not much else, but step up a few grand and you can get a very passable brand new supermini for the same price as a base version of smaller cars/used versions of pricier rivals. If you're looking for basic transport without many frills you could do a lot worse than choose the automotive equivalent of Lidl/Aldi.
Fiat Punto:
Fiat's small car line up is where the firm makes most of it's money; cars like the 500 and Panda have been huge successes and in the 500's case have resulted in a whole line up of spin-offs. But for 20 years now there has been another Fiat which has sat alongside these vehicles – the Punto. Unfortunately though, Fiat have neglected their supermini since it's reasonably successful launch back in 2005, and it has gone from one of the more stylish entries to it's current state of being facelifted more than Joan Rivers. It's still not that ugly and is quite cheap, but a basic interior, uninvolving drive and most importantly a poor selection of engines means that it isn't really a choice to recommend unless you love Fiats but hate the 500L (which is actually based on the same platform!).
Honda Jazz:
The Jazz is my Mum's ride of choice and is a pretty good all rounder of a car. Straddling the lines between conventional supermini and mini-MPV, it is phenomenally reliable, reasonably economical and very practical. Those interested in a more detailed review can look here, but I would still recommend the Jazz unless you're looking for a car with a bit of get up and go on the motorway, even though a brand new model is due before the end of the year.
Hyundai i20:
Hyundai is a company on the up globally, especially in North America but very much so on this side of the pond too. Previous Hyundai superminis have been reasonably bland and you'd think that the incredible success that the current one has had means that the i20 has overturned all of this. Well the i20 is not a bad car let's just say that, but it lacks some of the sparkle that the company's more recent efforts have had…I mean after all this is a car that was launched back in 2008 at the beginning of the brand's rebirth. What has made the i20 (and it's more practical ix20 sibling) a success though is it's inoffensive styling, decent cabin quality and engines and importantly a reasonable price with a 5 year warranty. Smart money though would go on the Hyundai's twin…
Kia Rio:
The i20's twin is a much better all round car and handily beats it on most fronts. Sleeker styling, a quirkier but more modern interior and a more efficient range of engine options means that customers can have their cake and eat it…plus the Rio comes with a 7 year warranty and is near enough cheaper too. Probably the main reason why the Rio is not quite as popular as it should be is that it's dealer network is not quite as comprehensive as rivals, and also Kia have a fair few alternatives in their own lineup which offer quirkier alternatives for buyers. The Venga is Kia's version of a mini-MPV and a reasonable effort, but the Soul is Kia's ace in the hole for a lot of buyers wanting an alternative to Nissan's very popular Juke…not a proper supermini maybe but all of these offerings are worth a look.
MINI:
Now in it's 3rd generation, the MINI has much to recommend it for buyers who are after a fun, well made and cheap to run vehicle that won't break the bank to buy. You can't beat the MINI for premium appeal (besides maybe Audi's A1) and with it's BMW ownership it means an interior that has class-leading tech and sharp handling. This generation of car looks a bit more awkward than in the past, but it will also come in a more practical 5 door version to give it even wider appeal. The only problem is going to be pricey options and list price.
Nissan Micra:
Nissan's European fortunes have been on the up in recent years thanks to just a couple of models, but it's come at the expense of their mainstream offerings like the Micra. What was once one of the more popular superminis on UK roads has now been relegated to also-ran because of limited engine options and a smaller size – not that it doesn't have some good attributes and it's simplicity means that it will be reliable and cheap to run, but the smart money is on one of Nissan's other small offerings. Both the Juke and Note are practical, distinctive and sell well – if budget permits give one of these a look for a much better car.
Peugeot 208:
Peugeot's 205 is for many the de facto supermini of the 1980's, and whilst it has tried to recreate this formula since (with mixed success) Peugeot has chosen the 208 to really push this connection and is a better car for it. Looks wise it is a lot less awkward than it's 207 predecessor, and overall is smaller than most rivals and looks quite premium. Inside is more of a mixed bag but when equipped with a touchscreen it matches the premium aura of the exterior…just make sure you can deal with the interesting steering wheel-which is very small compared to any other car on the road. It's well priced too, and those looking for a more practical Pug can step up to the 2008 crossover, which shares most of the 208's positives albeit for a higher price.
Renault Clio:
For many years the sexy option in the supermini market, Renault have recently again reinvented the Clio and yet again they have improved on what was not really a bad option anyway. The French firm have given their supermini a massive injection of cool thanks to contrasting door panels, striking front end and a good range of tech kit/engines. Of course looks are subjective and to many things like sat nav and other gadgets aren't important, but still to me it is a better option than the more common Fiesta. Handling isn't quite as sharp and admittedly engine choices are a bit more limited, but if you fancy taking the plunge on the Clio then I say go for it.
SEAT Ibiza:
The first of three 'regular' cars from the VW Group and the Ibiza is probably the most attractive. Available in sleek 3 door, pretty 5 door or practical estate variants, the SEAT is a well designed car inside and out; interior quality is high too and equipment levels will be pretty decent compared to VW versions at least. The good range of engine options ensure that there is something for everyone in the SEAT lineup, although the Ibiza's prices are not as cheap as the Skoda's or residuals as strong as the Polo's.
Skoda Fabia:
The Fabia was the first of VAG's current generation of superminis to launch and is actually pretty ripe for replacement (especially if you pay any attention to spyshots).  That said it's still a decent competitor with reasonably cheeky looks in standard 5 door form, and with a quality interior more-or-less on par with the best in class. Would I recommend the Fabia? Well paying any attention to former Skoda jokes would be stupid, but I think waiting for the next generation car or choosing a more modern alternative might be a better option.
Toyota Yaris:
Back in 1999 when Toyota first launched the Yaris it was a revelation; a well made and reliable hatchback with plenty of practicality in a small body it sold very well. The second generation though was a little bloated and lost a lot of it's predecessor's charm. When it was launched in 2012 the current car did a lot to reinvigorate buyer's interest with some personalisable aspects, funkier interior and even a hybrid option. Those looking for a reliable traditional supermini with low running costs could do a lot worse than a Yaris.
Vauxhall Corsa:
Poor Vauxhall – for years in the shadow of main rival Ford's Fiesta and still playing catchup despite improving it's supermini vastly in recent times. The Corsa is a very grown up supermini probably more akin to the Polo than the likes of the MINI and Fiesta; this is probably down to familiar/mature styling and a solid interior which can be kitted out pretty comprehensively, plus the driving experience is more planted than go-kart. Annoying indicator stalks and poor engines aside there isn't much wrong with the Corsa, but it's frustrating that the upcoming 'all new' generation seems like merely a rehashed version of a car that has been around since 2006.
Volkswagen Polo:
For a lot of well-to-do folk the Polo is the default supermini, and it has indeed picked up the gauntlet from some rivals as being a slightly classier option in the class. Aping the Golf's looks has done the Polo the world of good and that applies inside as well as out – it may be a little less interesting than it's Ibiza cousin and more expensive than most other options in the class but overall it offers a very attractive package with a badge that will get the nod of respect from most road users.