Today's car market is vastly different to that of even 10-15 years ago, not only has the sheer choice of models on sale multiplied several times over but we are also bombarded with ever growing hi-tech kit that adorns everything from our headlamps right back to our exhaust pipes. However one of the most important shifts that has happened, at least in my opinion, is the change in which a growing number of buyers now see the car as a commodity with a short expiry date as opposed to the longer term view that buyers held in the past.
A lot of this is centred in the way that we buy our cars; PCP and HP finance deals now mean that it is excruciatingly easy to enter car ownership without parting with too much money at once, as aside from a relatively small deposit there is simply the matter of a monthly bill to be contended with before owners can simply hand the car back after 2/3/4 years and get a brand new shiny one in return. Car manufacturers love this because it means that their sales can grow and grow, and in order to help sustain this trend they have taken to issuing several 'facelifts' over the course of a car's lifetime – I won't dwell too much but essentially the 1980's buyer could assume that the Ford Fiesta they purchased in 1981 would pretty much be the same model on sale 5 or even more years later save a few extra paint shades and wheel trims, whereas today's buyers have to weigh up whether or not to swap their 2 year old model for a new one which has a completely different front grille, upgraded interior design and more efficient engines.
The reason I bring this up is because I spent a while this afternoon musing which car I could genuinely own for 10 or so years; a fair few people on the forums I read have gone against the grain and have bought their cars as a product to last them a long time and as such have made a large initial outlay which will then be counterbalanced by long ownership and the fact they have bought a well made/enjoyable vehicle. My personal list is of course filled with luxury SUV's, none of which I am in a position to buy and in reality the complicated nature of these machines make them a poor recommendation, but nevertheless I'm not sure I could now go back to driving a 'regular' car for any extended period of time, let alone 10 years!
In the spirit of the number 10 I've decided to keep this list down to that number, so I'll try not to dwell and make the list too long…
BMW X5:
The fact that most of the car forums I read are X5-centric should mean it isn't much of a surprise that I've heard about plenty of X5 owners who have had their vehicles for 10+ years. The current X5 is a mere year old and as therefore is bang up to date in terms of having all the connectivity and tech options for the modern consumer as well as being significantly more efficient than previous generations. Given that my current car is now 10 years old and only seems a bit out of date I can see that any buyers of the current machine would be pretty happy come 2025 if the reliability is up to scratch.
BMW 5 Series:
All BMW's have a good reputation for handling and reliability, even if it can be undeserved in some cases, but above all it is the 5 Series which is near universally praised for being all things to all men; not as brash as a 3/4 series and not as obese or ungainly as a 7. The current 5 Series has the timeless looks that make many recall the revered 96-02 'E39' generation and even though it's been on sale for 5 years it has not aged much, even inside where it is as contemporary as the newly launched X5. Not the most exciting choice but one of the most sensible.
Land Rover Range Rover Sport:
I could have populated this list full of JLR products, but I decided to pick the one which I feel will be the best in 10 years time, although to be fair I feel it is the best now too. The Sport is more aggressive and attractive than the 'full fat' Range Rover, and being very new still it will look modern inside and out in the upcoming decade…the Discovery is far too old now and although the full fat is a very nice vehicle I prefer the look, handling and dimensions of the Sport – even the original model doesn't look too out of date now and that car had a horrible interior and awful road peformance!
Mercedes G Wagen:
What better car to choose than a car whose basic design is already 40 years old? The G Wagen continues to solider on with minimal updates year-on-year but it still manages to ooze a desirability only matched by supercars for some people. Recently it's interior has undergone an overhaul which has made it much more usable, and although driving dynamics are pretty poor the new engines have made it a reasonable everyday choice as long as you can survive the sub 25mpg fuel economy (diesel or petrol). It is very expensive but this is compensated by the fact it will lose comparatively less value over the course of the next 10 years…even models from the early 90's command over £20k on the used market!
Mercedes S Class:
At the other end of the Mercedes spectrum is a car which is so far into the future that come 10 years time it's technology will only just be filtering through into mainstream models. I am not a massive fan of the way the new S Class looks but on the whole it has been well received and constantly strives for perfection in a market where it's competitors can't touch it for love nor money. A lot of executive chauffeur firms buy S Classes and replace them after 3 years, but I suspect that there are a lot of older buyers who keep their big Mercs for well over 10 years; I often see immaculate models from the 90's and even before on the road!
Nissan Juke:
A bit of a strange choice perhaps given that the Juke is neither particularly fresh or a large SUV, but this mini crossover has been very successful in spite of (or perhaps because of) it's polarising looks and unusual interior design. What we have here though is a reliable, practical and efficient vehicle which very much meets the needs of many car buyers today for a very reasonable price; it might not be the car on this list I'd choose first but it will undoubtedly be cheapest to run in the real world and will put a smile on your face even after 10 years.
Porsche Cayenne: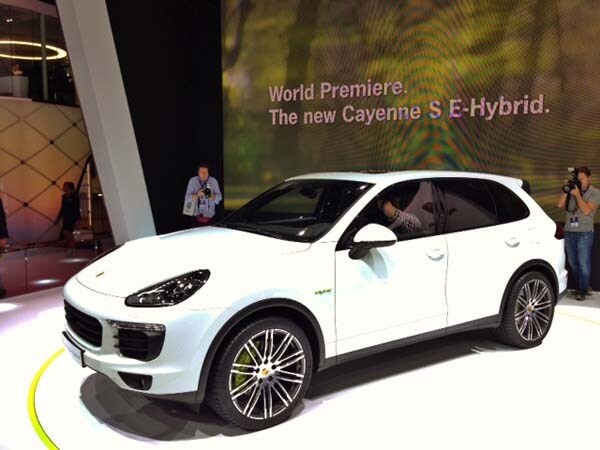 The recently refreshed Cayenne is a car which continues to be a big success for Porsche, the new updates to the 2015 model bring even more efficient engines in addition to new LED lights and a few updates to the infotainment software. It isn't the most modern machine by any means and will end up being very expensive to buy, but I suspect it would be one of the most rewarding vehicles here to own what with it's impressive blend of handling, performance and efficiency.
Porsche Macan:
The Macan takes all the strengths of the Cayenne and wraps them up into a smaller package which many reviewers see as pretty much faultless besides limited practicality; personally this isn't a massive barrier for me at the moment but I guess it could be within the next 10 years. I like the looks of the larger Porsche but for those who can't stretch to £60k+ for a well equipped Cayenne they could do a lot worse than buying it's little brother which is likely to hold it's value just as well.
Toyota Prius:
A very left field choice here but the Prius has now proved it's worth as a long term vehicle purchase both in terms of reliability and running costs, so as such is a car that could very easily warrant 10 years of ownership. Admittedly the current model is getting on now a bit in age, but whilst the cabin is plasticky and a little kitsch it will wear well and has enough technology to be future proof yet not enough that it will be rendered uneconomical to fix if one of it's computers dies.
Volvo XC90:
A little bit of a cheat here because the new XC90 is not on sale yet, but the new model looks very capable of taking over the mantle of the firm's best selling model and although it hopefully won't be around as long as the current car (13 years by the time it's been replaced) nonetheless it should still look and feel pretty capable in a decade's time. The large touchscreen is very usable and if Apple Play is included in the car then it will be one of the only cars on this list which can be updated over the air easily.